Last night we took off the other garboard and one lapstrake on each side.
Here is the picture so far: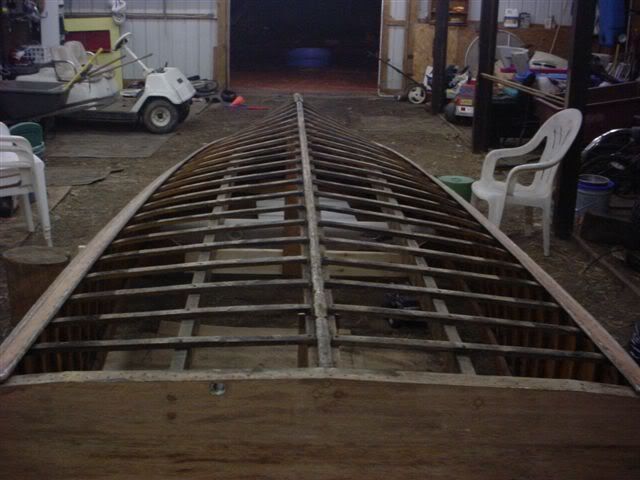 I had previously mentioned a few hidden nails through the boards that were covered up by the lap of the next lapstrake. They were probably used to hold the lapstrake in place while the screw holes were drilled. The nails are brass and are easily sliced flush with the rib. Here is how I sliced them off with a long chisel: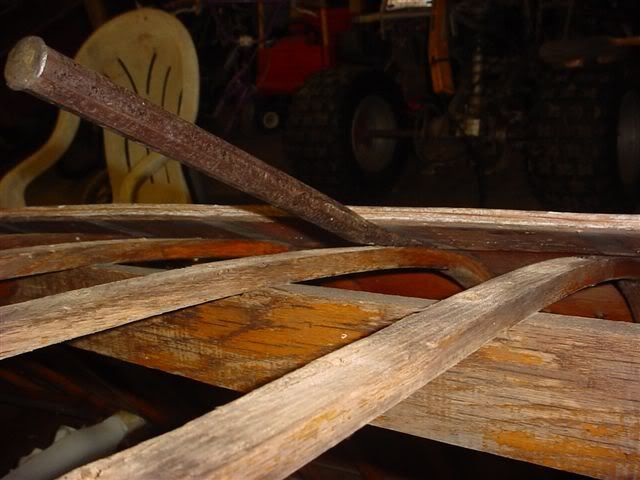 Finally, here's a major problem area: the end of the stem where it joins the inner keel. You can see from the picture below that it has split and pulled apart: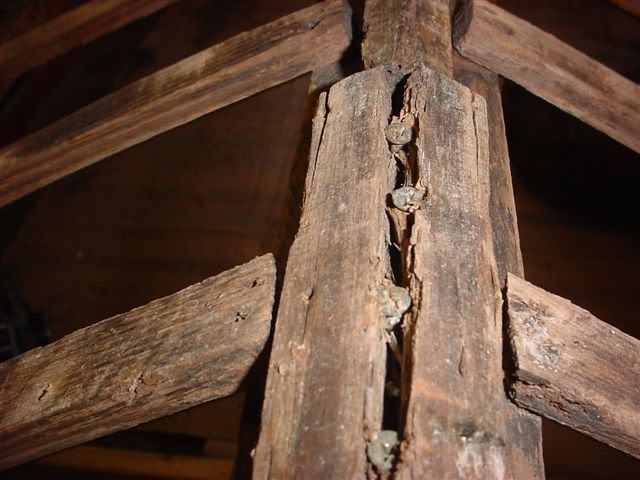 I'll probably have to scarf in a section to replace the bad part. The screws you see inside the crack are the screws that attach the stem end to the inner keel end.
I found the best way to remove the machine screws holding the lapstrakes together was to hold it with a screwdriver from the outside while my son was inside the boat with a socket in a cordless drill. He would spin off the nut and then push the screw out. Some of the screws broke, but it doesn't matter since I won't be reusing them.
As for the nails in the garboard at the stem and the keel, here is what I did. The keel nails are pretty short, so we used a short piece of 2x4 and a hand sledge from inside the boat to drive the plywood away from the keel. This pulled the nails with the plywood. We didn't have any nails break through the plywood and remain in the keel. However, the nails in the stem are much larger and we were required to remove them first. It was actually pretty easy to tap a medium-size flatblade screwdriver next to the nail and pry it up until we could grab the head and pull it out.
The next step before removing any more lapstrakes will be to build a structure to hold the lengthwise stringers that the floor is attached to. Since the ribs are screwed to these, it will keep the ribs in their proper place as the lapstrakes are removed. Eventually the keel will also have to be removed and the structure will be needed to retain the shape of the boat.
Steve